Welcome To State Line Machine!
State Line Machine, Inc. is a proven industry leader. We are committed to growing and expanding product sales and technical service capabilities from our North America locations. With many years of experience in product support and service for "Off Road" machinery, we know the importance of using the right parts and providing the customer service you need. We take pride in maintaining a large inventory of thousands of high quality and competitively priced products for our customers and making sure you get the product support you deserve.
With Delaware locations in Wilmington and Laurel, experienced staffs, quality work, competitive pricing and a proven commitment to fairness and customer satisfaction, State Line Machine continues to grow our capabilities, product range and improve customer support.
Our sales and service team work together to provide contractors, dealers, distributors, quarries, mining operations and agricultural customers with a special level of product support that exceeds the service level offered by many Original Equipment Dealers. Better service, better support, better quality and lower costs all go together to give you better value. Our goal is to provide our customers with the best quality components and service for their equipment at the most competitive prices.
The State Line Story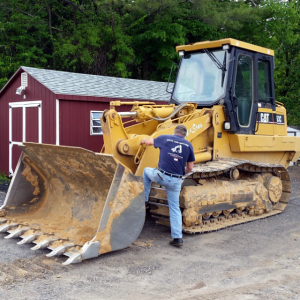 State Line Machine Inc. was originally founded by Fulton Owensby in 1966, to provide a full range of equipment service and repairs to contractors who needed and deserved a better alternative for their parts and service requirements in the Wilmington, Delaware area. Dedicated to principals of fair treatment and ethical dealings with customers and community, State Line Machine has grown in size and locations, providing wide range of services to a large cross section of customers. State Line Machine has established one of the finest reputations in the "Off Road" service industry for providing excellent customer service and high quality products and support to regional customers.
Fulton Owensby Sr. and State Line Machine have become industry leaders in the independent distribution of parts and service to the "Off Road" customers. Fulton Owensby Jr. has worked within the organization for many years, gaining valuable industry knowledge and experience. He is now actively leading this family owned and operated organization, moving the company forward and expanding the sales and technical service capabilities provided to customers.
With a continued commitment to treating customers right, State Line Machine insures owners and equipment operators receive the finest quality products and service for their equipment.
Two Locations To Better Serve You
New Castle County
200 State Line Road Wilmington, Delaware 19803

(800) 314-0021

(302) 478-7029
Sussex County
1154 South Central Avenue Laurel, Delaware 19956

(302) 875-2248

(302) 875-3545